Let's Set Sail!
Welcome Web Traveler, to Station Arcadia! This is my Leijiverse Fansite. Inspired by the fansites of old, all dedicated to showcasing my works of the famous and iconic aritst Leiji Matsumoto, who is behind such series as Captain Harlock, Galaxy Express 999, and more! Even if you are not familair with those series or have heard of Leiji Matsumoto, you might even recgonnize him from that Daft Punk movie he did as a collab with them: Interstella 5555!
On this site I will post my thoughts, gushing, official art, and more of various Leijiverse series. I still need to dip my toes into a lot more of Leiji Matsumoto's works, so right now I won't have much or (any thoughts in some cases, yet anyways) so far about a particular series since there is still so much left for me to see. I will also link to various other incredible Leijiverse related sites from across the web!! I will also have a page talking about how to get into these works, and it's a lot more simple to get into his work than it looks on the very suface! Just like in the spirit of old websites too: This site will constantly be under construction and continusly growing!!
Thank you for checking out my site, I hope you enjoy your time, and let's set off to The Sea of Stars!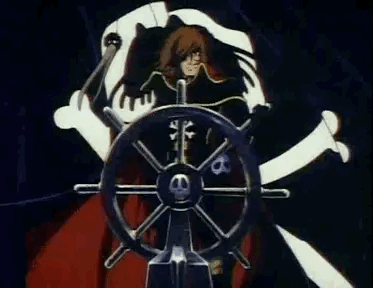 If you'd like to link back, here's the site's button! Please the save button & host it on your server! No hyperlinking!

Webrings & Listings:
---
This site is a proud member of the geekring! Check some other geeky websites here!
Previous site
--
Random site
--
Next site
Site credits:
Art in the sidebar was created by Leiji Matsumoto himself. | Font used for this website is Kaisei HarunoUmi on Google Fonts and the font used for the site's logo is FORQUE by Tup Wanders.| Site button uses pixels from a Harlock PC98 game sprite edited slightly to fit the 88x31 format.| Site Graphic in sidebar edited with Photopea using these textures: X, X.